ECLIPSE

Drama, 16 mm, 26 min., color, 1988,
Original French Version

Starring Sylvie Drapeau and Denis Roy, based on a short story by Lucie Lambert, ECLIPSE premiered at the Festival international du film en Abitibi-Témiscamingue in October 1988, and was released at Cinéma Parallèle in Spring 1989.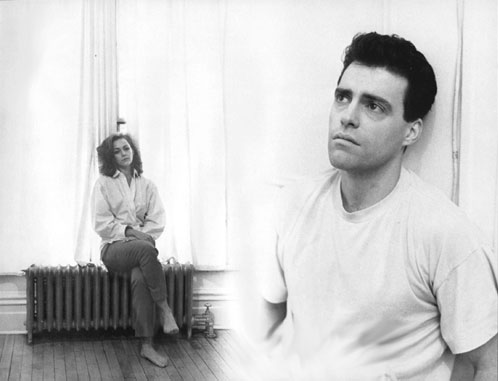 Distribution :

Canada and world sales : Castor & Pollux

Canada : included on the DVD of AMNESIA-THE JAMES BRIGHTON ENIGMA, distributed by K-Films Amérique


---

Synopsis :

Simon wants to go to New-Zealand to live in the mountains and feel the passion of nature. Fascinated, Diane starts to follow him. In Simon's life, memories suddenly reawaken and old hidden objects reappear.


---

Cast :

Simon : Denis Roy
Diane : Sylvie Drapeau
Young Simon : Nicolas Vanier


---

Credits :

Director : Denis Langlois
Scriptwriter : Denis Langlois, Lucie Lambert
based on a short story by Lucie Lambert
Producer : Denis Langlois, Guylaine Roy
Image : Janusz Polom
Art Direction : Jean Bard
Sound : René Robitaille
Editing : René Roberge, Denis Langlois
Sound Design : Richard Angers
Music : Richard Angers



---

Reviews :

"ECLIPSE gives the example of an open writing style (...) continually open to lyricism... There is a theme, the inaccessible man, the passive man, etc... That's the originality of the film. In my opinion, there's this new wave in young filmmakers, about the reversal of roles like here, there's a new and interesting tension..."
- Guy Beausoleil, scriptwriter and playwright (discussion on the films of 1988, at the Rendez-vous du cinéma québécois, Montréal, February 1989)


---

Festivals and presentations :

1989
Maison de la culture Frontenac, Montréal

1989
Above ground underground, Calgary
(Calgary Society of Independant Filmmakers)

1989
7ième Rendez-vous du cinéma québécois, Montréal

1988
7ième Festival du cinéma international en Abitibi-Témiscamingue, Rouyn-Noranda

1988
Les 5 jours du cinéma indépendant canadien, Montréal


---