THE ESCORT

Dramatic comedy
1996, 35 mm, 92 min., color, French with English subtitles

The world premiere of THE ESCORT takes place at the Toronto International Film Festival in September 1996 and the Quebec premiere a few days later in Montreal as a benefit at the Imperial Theater. The distributor Cinéma Libre then releases the film in two Cineplex Odeon theaters in Montreal and in Quebec City, and in the rest of Canada in Spring 1997 (Cineplex Carlton in Toronto, Ottawa, Winnipeg, Regina, Edmonton, Calgary,...)

In 1999, the film had a theatrical release in more than 35 cities in France. The video rights were sold in the United States and in Germany. The film was bought by TV channels Super Écran, The Movie Network and Showcase in Canada, and in a few TVs worldwide.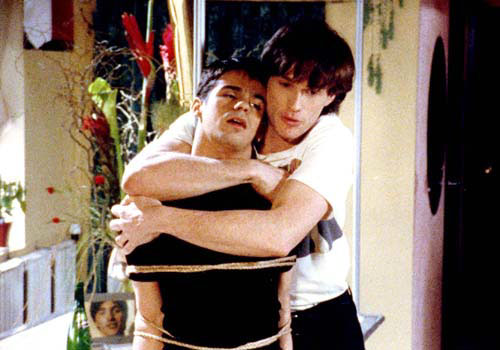 Trailer :

Les Film du 3 mars



---

Distribution :

Canada and world sales : Castor & Pollux
France : Épicentre Films
German speaking Countries : ProfunMedia


---

Rental :

Les Films du 3 mars


---

Synopsis :

This is the story of Philippe and Jean-Marc who have been together eight years. Philippe is struggling to become a writer while Jean-Marc faces great financial difficulties trying to keep his restaurant open. It's also the story of Aline, Philippe's mother, who has just left her husband, of Nathalie, who has just broken up with her lover, and of Christian, Philippe's buddy since childhood, who wants to abandon everything... A party joke gone wrong brings an unexpected force for change into their lives in the form of Steve, a humpy young free spirit who works as an escort. Steve has never known what love is. But does he always tell the truth ?

Whit his ironic but touching story of love, friendship, lies and treason, Denis Langlois shows he is on the leading edge of a new generation of Quebec filmmakers.


---

Cast :

Philippe : Paul-Antoine Taillefer
Jean-Marc : Éric Cabana
Steve (the escort) : Robin Aubert
Nathalie : Marie Lefebvre
Christian : Patrice Coquereau
Joe : Jasmin Roy
Philippe's mother : Louise Laprade


---

Credits :

Director : Denis Langlois
Script : Denis Langlois, Bertrand Lachance
Producer : Bertrand Lachance, Denis Langlois
Image : Yves-Laurier Beaudoin
Art direction: Pascale Deschênes
Costumes : Claudine Robitaille
Sound : Louis Desparois
Editing : Mei Yen Chan, Denis Langlois
Sound design : Sylvie Masse
Music : Bertrand Chénier
Mix : Gaëtan Pilon


---

Reviews :

" Stylish, ultra-cool and seductive " - David McIntosh, Toronto International Film Festival

" An intense, emotionally complex, mature work " - Los Angeles Times

" Call it Pasolini lite or the gay version of Renoir's Boudu souvé des eaux, L'Escorte is a wry little comedy of manners " - Dimitri Katadotis, Hour

" A superbly cast movie " -Edmonton Journal

" On the edge of melodrama and comedy " -London Lesbian & Gay Film Festival

" Sexy and compelling " -Frontiers, Los angeles



---

Festivals :

1996
September
Toronto International Film Festival, Canada
- In competition for best canadien feature

October
Vancouver International Film Festival, Canada
- In competition for best canadien feature

1997
March
London Lesbian & Gay Film Festival, U.K.

April
Festival Internazionale di film con tematiche omosessuali,Turin, Italy
Panorama du Nouveau Cinéma Canadien, Zurich, Switzerland

June
"The New Festival" New York Gay & Lesbian Film Festival, USA
Boston Museum of Fine Arts' Gay & Lesbian Film Festival, Boston, USA
San Francisco International Lesbian & Gay Film Festival, USA
Festival Internazionale di Cinema Gaylesbica, Milan & Bologne, Italy

July
OUTFEST: Los Angeles Gay & Lesbian Film Festival, USA
Philadelphia Gay & Lesbian Film Festival, USA

August
Austin Gay & Lesbian Film Festival,Texas, USA

September
Festival International de Cinéma francophone en Acadie, Moncton, Canada
St-Louis Gay & Lesbian Film Festival, USA

October
Pittsburgh Gay & Lesbian Film Festival , USA
Reel Affirmations, Gay & Lesbian film festival, Washington DC, USA
Leeds International Film Festival, U.K.
Mostra Internacionale de Cinema de Sao Paulo, Brazsil
Turku Gay & Lesbian Film Festival, Finland

November
Festival du Film Indépendant, Bruxelles, Belgium
Santa Barbara Lesbian & Gay Film Festival, USA
Reeling '97, Chicago Gay & Lesbian Intr'l Film Festival, USA
Rome Gay & Lesbian Film Festival, Italy
Verzaubert'97, (Munich, Stuttgart, Frankfurt, Cologne, Berlin), Germany
Out in Africa, Intr'l Gay & Lesbian Film Festival,Capetown, South Africa

December
Calcutta International Film Festival, India

1998
February
Mardi Gras Film Festival, Sydney, Australia
New Zealand Lesbian & Gay Film Festival, Auckland, New-Zealand

March
Mix Mexico, Mexico, Mexico

October
Tampa International Gay & Lesbian Film Festival, USA
Western Australia Gay & Lesbian Film Festival (Perth) Australia
Feast, Adelaïde Gay & Lesbian Film Festival, Australia


---

Photos :

Click to enlarge photos












Canadian poster :





French poster :



---