MY LIFE

Dramatic comedy, 16 mm, 21 min., color, 1992,
French with English subtitles
Original French Version

MY LIFE played more than 40 Festivals around the world: at the New York Lesbian and Gay Film Festival in 1993, with the help of the Délégation du Québec à New York, at the Toronto International Film Festival, at the Indianapolis Canadian Film Festival, at the Quebec Cinema Festival in Blois, in many lesbian and gay festivals across the world (Hong Kong, Tokyo, Melbourne, San Francisco, Los Angeles, Turino, Berlin, Amsterdam, London,...), in short film festivals (Namur, Aix-en-Provence) and at the first International HIV & AIDS Film Festival, in Paris. It has been presented at the Ottawa Fine Arts Museum and was bought by Pride TV.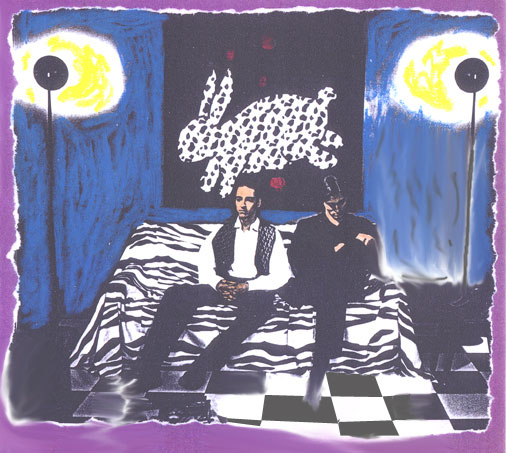 Trailer :

Les Films du 3 mars


---

Distribution :

Canada and world sales : Castor & Pollux


---

Rental :

Les Films du 3 mars


---

Synopsis :

Seeking a way out of his writer's block, Jeannot looks to his past to assess the progress of his life : a hippie coming out in the sixties; a disco bunny finding and losing love in the seventies; living with AIDS in the eighties; and a hopeful look into his future.


---

Cast :

Jeannot : Denis Langlois
Jean : Mario Thibeault
Jeannot's mother : Claudine Paquette
Old Jeannot : Guy Provencher
Old Jean : Charles Radford
Jeannot's son : Denis Tran Van Mang



---

Credits :

Director : Denis Langlois
Script : Denis Langlois, Bertrand Lachance
Producer : Denis Langlois
Image : Jean-Claude Bustros
Art direction : René Ménard
Sound : Attila Bertalan
Editing : René Roberge, Denis Langlois
Sound design : Sylvie Masse
Music : Michel Smith



---

Reviews :

"We see a series of pivotal moments in a writer's life, all beautifully prefaced by the films's strongest segment, wherein the main character sorts through childhood memorabilia and wonders where all his past selves have gone."- Steve Kokker, Mirror

"Chronique biographique de la vie d'un écrivain qui se cherche, MA VIE ne manque pas d'intérêt avec son air trop naïf pour l'être vraiment. Avec quatre sketches étalés sur 70 ans, Langlois impose un ton personnel et attachant." -Eric Fourlanty, VOIR, Montréal

"Full of period atmosphere and colour, the film is a witty summation of recent gay history." -David McIntosh, Festival of Festivals, Toronto

"Voilà une oeuvre à la fois stylisée, originale, amusante et prenante, qui se termine sur un message d'espoir. Une réussite dans son genre, ce film englobe succinctement la plupart des préoccupations des gais." -Maxence Prod, RG, Montréal

"From Canada, Denis Langlois' MA VIE is a meditation on memory, loss and love... I found this an especially intriguing film. It's one of the few I watched more than once." -Hank Sartin, Windy City Times, Chicago


---

Festivals and presentations :

November 1992
Festival Image & Nation gaie et lesbienne - Montréal - Opening film
Les 5 jours du cinéma indépendant canadien - Montréal - Closing film

February 1993
Les Rendez-vous du cinéma québécois - Montréal (Canada)
Cinéma Parallèle: Sortie commerciale - Montréal (Canada)

May 1993
Toronto Inside Out Lesbian and Gay Film Festival (Canada)

June 1993
New York New Lesbian and Gay Film Festival (USA)
Alliance de la vidéo et du cinéma indépendant - Vancouver (Canada)
The 17th San Francisco International Lesbian and Gay Film Festival (USA)

July 1993
The 11th Los Angeles International Gay and Lesbian Film Festival (USA)

September 1993
Toronto International Film Festival of Festivals (Canada)

October 1993
Third Festival du Cinéma Québécois - Blois (France)
DC's 3rd Annual Celebration of Gay and Lesbian Films - Washington (USA)
Internationales SchwulLesbiches Filmfestival - Berlin (Germany)

November 1993
The 13th Chicago Lesbian and Gay International Film Festival (Etats-Unis)
Festival International du Court Métrage de Namur (Belgique)
The 2nd AIDS Film Festival (Pays-Bas : Amsterdam, Rotterdam, Den Haag, Groningen, Nijmegen)

December 1993
Cégep Saint-Laurent - Soirée du jeune cinéma québécois (Canada)
Festival Tous Courts d'Aix-en-Provence (France)

January 1994
MIT Lesbian and Gay Film Festival- Boston (USA)
The 4th Hong Kong Lesbian and Gay Film Festival (Hong Kong)
February 1994
Indianapolis Festival of Canadian Cinema (USA)

March 1994
Melbourne Queer Film and Video Festival (Australia)
The 3rd Tokyo International Lesbian & Gay Film & Video Festival (Japan)
The London Lesbian and Gay Film Festival (UK)

April 1994
2e Festival International du Court Métrage de Montréal (Canada)
International Turino Gay and Lesbian Film Festival (Italy)
Lesbian & Gay Video Festival at Brandeis University (Massachussets - USA)
Lesbich-Schwule Filmtage Hamburg (Germany)
Festival International du Film VIH & SIDA - Paris (Cannes, Lyon, Genève, Montréal in 1994-1995)
The Making Scenes Gay & Lesbian Film Festival- Ottawa
(presentation at the Fine Arts Museum of Canada)

June1994
41st Sydney Film Festival (Australia)

Mars - sept. 1994
Tournée du cinéma indépendant canadien -
(Tournée dans diverses villes et institutions au Québec ; Musée de la Civilisation de Québec...)

December 94
Cinematheque Ontario, Retrospective 'The fruit machine' (Toronto)

February 1995
1er Festival du film VIH-Sida au cégep Montmorency - Laval (Canada)

June 1995
Cine-club de l'association gay et lesbienne des Bois-Francs -Victoriaville (Canada)
(Présentation en première partie du film LES ROSEAUX SAUVAGES d'André Téchiné)

September 95
Lisbon (Portugal) Turino (Italy), Barcelone (Spain)
Tour of the HIV-AIDS Festival -PARIS

October 95
Bangkok International Gay & Lesbian Film Festival (Thailand)

August 97
Vancouver Lesbian & Gay Film Festival (Canada)


---